Here're the pictures of what I wore yesterday.
As you can see, I was spontaneously channeling my inner Michael Jackson.
I love him very much and I was truly shocked and sad when he died.
I hope he found his rest now.
My easter break has finally started. The only thing that I feel like now is sleeping.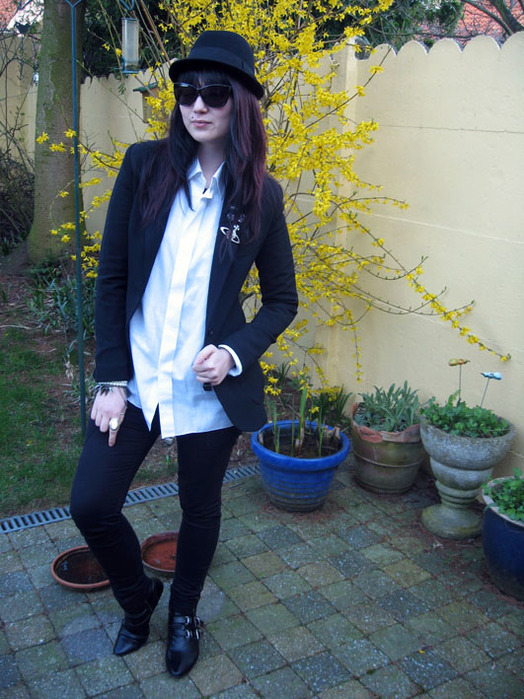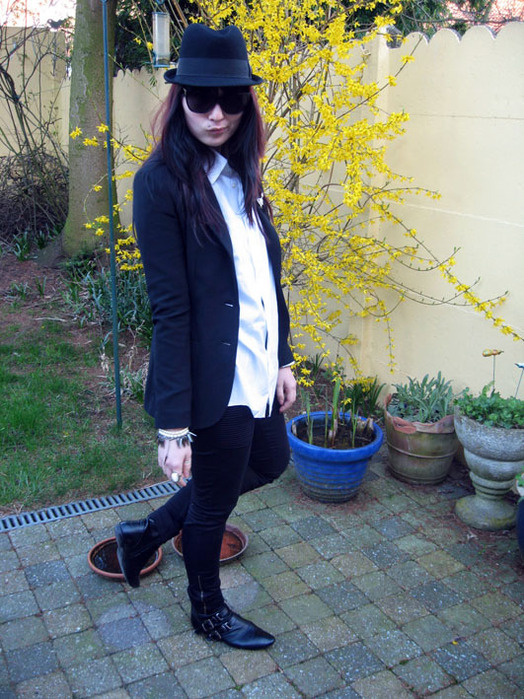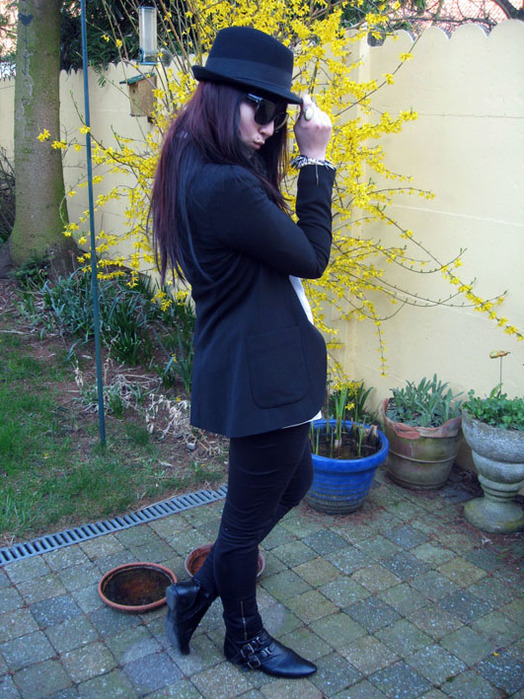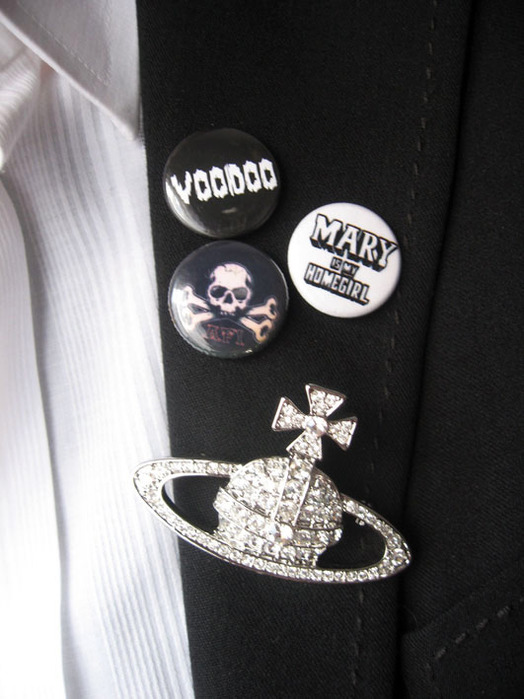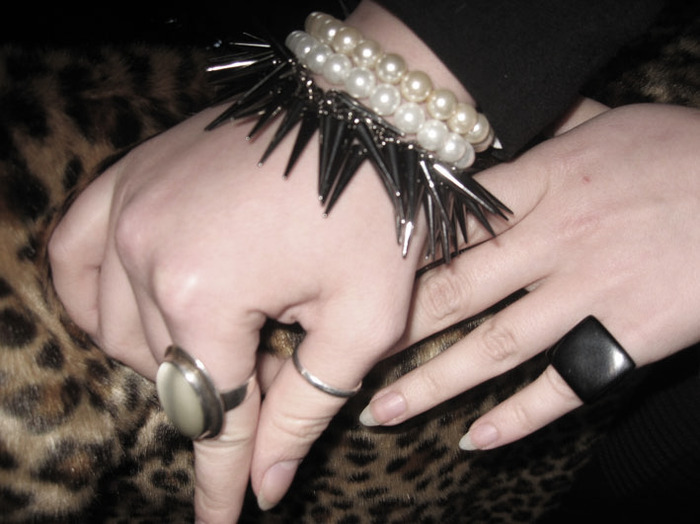 Wearing: Mango jacket, H&M pants, sunnies & hat, Vintage men's shirt, Vivienne Westwood brooch.
Recently I have been interviewed by the wonderful Jessica from Marvelous Things
-
http://darknightholdtight.blogspot.com
And I wanted to share my answers with you.
Just a little something to get to know me a bit better.
Who, What, When, Where, Why

You have a really unique sense of style! What influences it?
Through whole my life art was my big inspiration. By not studying in a regular school I learned to be open minded and not to be afraid of judgemental or small minded people. I like contradictions and don't like to play by the rules. I'm influenced by the different cultures. The East, where I was born and spent my childhood and the West, where I grew up. Of course, music and cinematography. There it goes from Britney, to some dark and underground stuff. From Mamma Mia to horror movies. As I said, contradictions are the core of my personality. The dark element came naturally at some point. Although I can't define one certain look, I like too much different things, black just dominates.

Describe your favorite piece of jewelry.
This would have been hard if I hadn't had this one piece of jewelry. It's a brooch that used to belong to my grandmother. The brooch is a combination of crystals of different sizes. Not only it's very beautiful, but has a great meaning to me. My grandmother died when I was about 3 years old, so I have no memories of her at all. I feel like this is the only thing that's linking me to her.

What is your guilty pleasure?
Shopping, of course. And I'm guilty on all charges, guilty big time. Rehab time, guilty :p I just looove it. Now you get how obsessed I am. And chocolate and ice cream too. After you burned all these calories, you just need a refill.

Who are your favorite designers?
Gareth Pugh, Ricardo Tisci, Alber Elbaz, Alexander McQueen, Nicolas Ghesquière, Dolce & Gabbana, Martin Margiela, Ann Demeulemeester, Haider Ackermann...

What is the fashion scene like in Belgium?
I always have the feeling like Belgium is always behind on everything. So is the fashion scene. Though Belgium has lots of great and famous designers, the fashion scene itself is pretty small. That's probably because the country is so tiny. Antwerp has a lot of cool fashion people. The most people here wear the same boring things and don't care about fashion at all. Or think they're fashionable by walking around like copies of each other.

What is your favorite aspect of the fashion industry (new collections, editorials, etc)?
I really like the editorials as they become more fantastic each month. There's always a new twist, a new source of inspiration. The crazier, the better for me. I'm a magazine freak, wish I could buy them all.

What are your beauty must-haves?
Moisturizer, as my skin is very dry. And black eyeliner, can't live without. A good foundation is very important too. Choosing the right tone is crucial. You don't want to look like you're wearing a mask, don't you?

If...

If you could receive one haute couture dress for free, who would design it and what would it look like?
Alexander McQueen, speak about impossible :( His gowns did look like haute couture. I'd let him do his own thing. He's the only one who couldn't get it wrong, ever. I'm sure it would be dramatic.

If you could style anyone in the public eye/fashion industry, who would you choose?
Lady Gaga, because her style is so amazingly crazy. You'd really can do everything to her.

If you could collaborate with any designer for a collection, who would you pick and why?
McQueen, again. I'd really want to know how his mind worked and how he chose a subject for his collection and developed it to the final product. I ones read that many of his inspiration came from his dreams. This is really close to me, because I have pretty complicated and crazy dreams too.

If you could create your own nail polish (think OPI's crazy collections), what color would it be and what would you name it?
I would create a metallic gamma called "The Space Invader" . Think pastel colors with a metal shine. A clear nail polish with a metallic "moonshine" effect should be cool too.

Pick One

Studs or Skulls?
Hard one, love both. But have to go with studs. I'm obsessed.

Lara Stone or Brigitte Bardot?
Lara, she's a real goddess.

Runway Shows or Awards Shows?
Runway Shows.

Alexander Wang or Jeremy Scott?
Jeremy Scott. Love his wacky designs.

Daisy Lowe or Alexa Chung?
Daisy Lowe.

Red Lips or Red Nails?
Both. But if I really have to choose, lips.

Paris or New York?
Paris!

End the interview with a song lyric or quote!
"Lie awake in bed at night and think about your life. Do you want to be different? Try to let go of the truth, the battles of your youth 'cause this is just a game. It's a beautiful lie It's the perfect denial, such a beautiful lie to believe in. So beautiful, beautiful it makes me" -"Beautiful Lie" by 30 Seconds To Mars